In the same way we participated to the Otomí « waist loom »workshop carried out by Casa Wilmot association (see previous article), we took part in a workshop to learn the basic pottery techniques from Tonalá, a neighboring town specialized in crafts, especially in ceramics and pottery.
This workshop offers a first approach to the pottery craft. The workshop took place in 9 sessions of 5 hours over 3 weeks, after which we would be familiarized with the basic principles of pottery and able to reproduce them independently. The aim of this workshop is to be able to train a new generation of artisan potters and to perpetuate ancestral techniques that are on the road to perdition.

Dans la lignée de l'atelier de tissage à la taille de culture Otomí réalisé avec l'association Casa Wilmot (voir article précédent), nous avons participé à un atelier d'apprentissage des techniques de base de la poterie à Tonalá, ville adjacente à Guadalajara et spécialisée dans l'artisanat, notamment dans l'art de la céramique et de la poterie.
Cet atelier propose un premier abordage au métier de potier. L'atelier s'est déroulé en 9 sessions de 5h sur 3 semaines, à la suite desquelles nous serions familiarisés avec les principes de base de la poterie et capables de les reproduire de manière autonome. Le but de cet atelier est de pouvoir former une nouvelle génération d'artisans potiers et de faire perdurer des techniques ancestrales en voie de perdition.



Juan Jaime Contreras, our master potter, taught us all the steps to get to form bowls in a traditional and entirely manual way. From sieving and massaging the clay with our feet, to developing our own tools such as squirrel-tail brushes, preparing natural pigments and managing the wood-fired oven.

Juan Jaime Contreras, notre maître potier, nous enseigne toutes les étapes pour arriver à former des bols de manière traditionnelle et entièrement manuelle. Depuis le tamisage et le massage de la terre avec les pieds, jusqu'à élaborer ses propres outils comme les pinceaux en queue d'écureuil, la préparation des pigments naturels et la gestion du four à bois.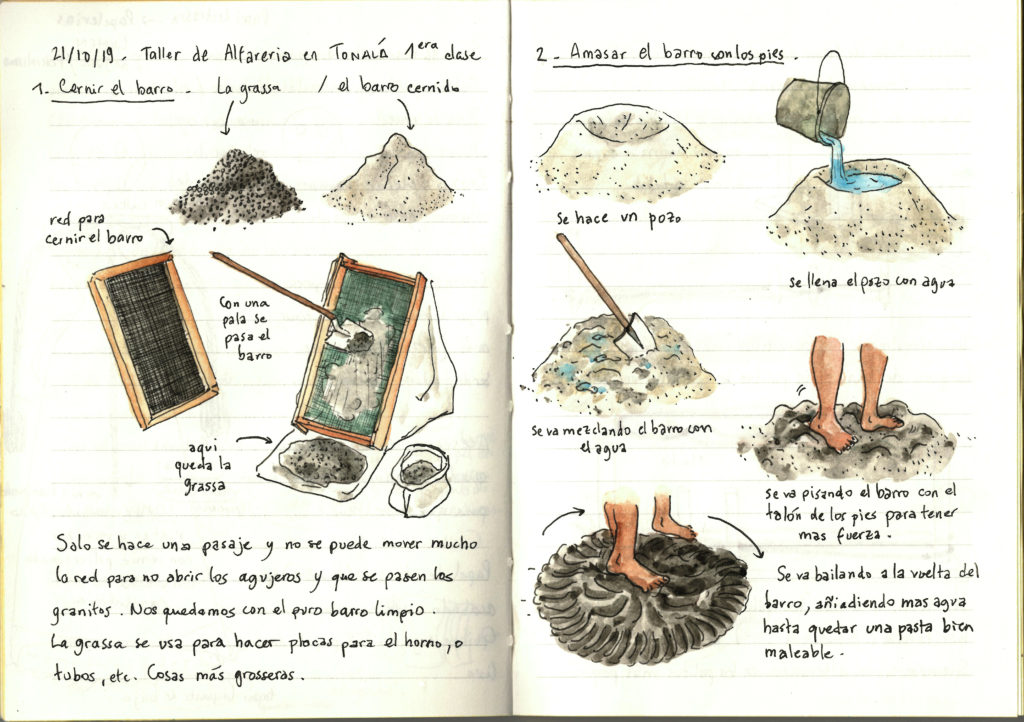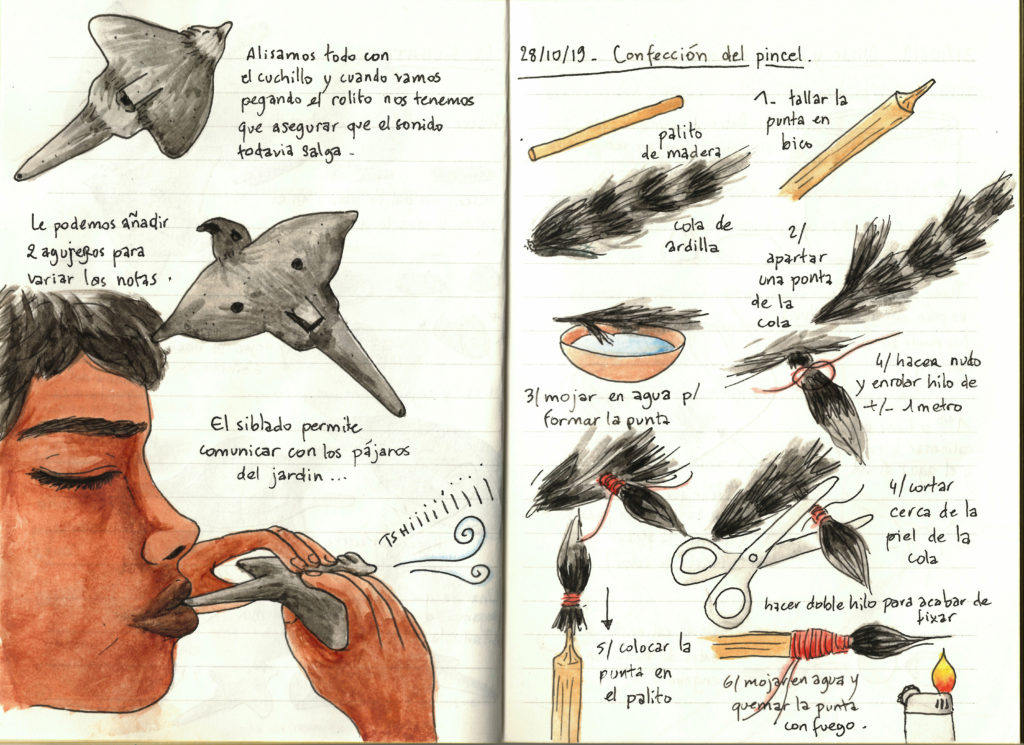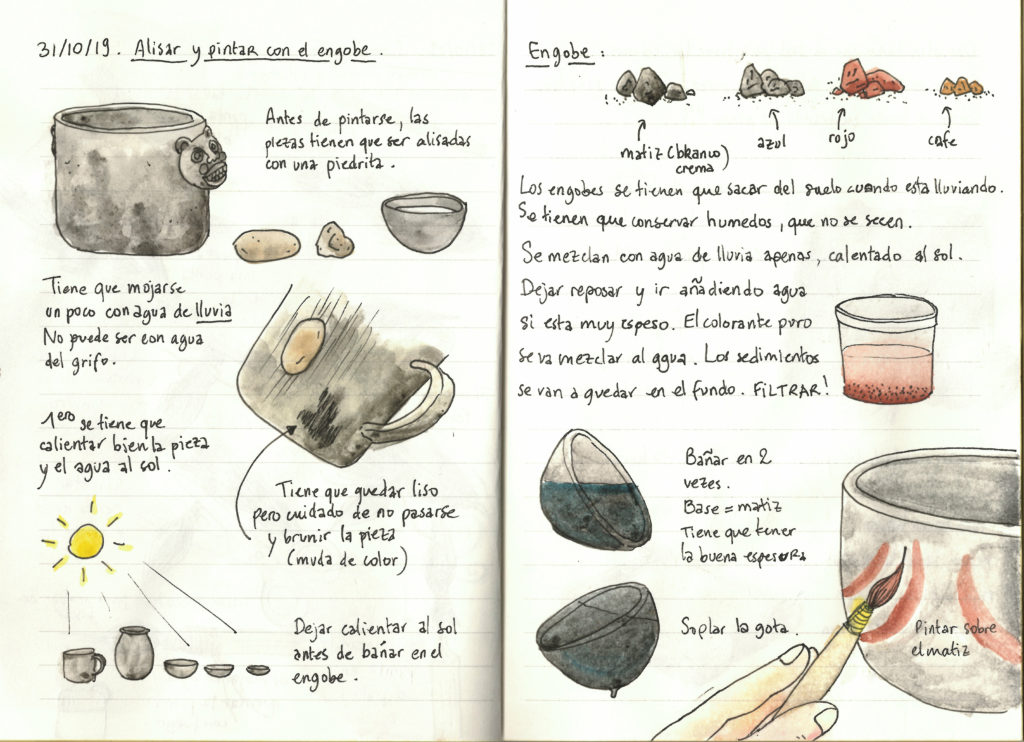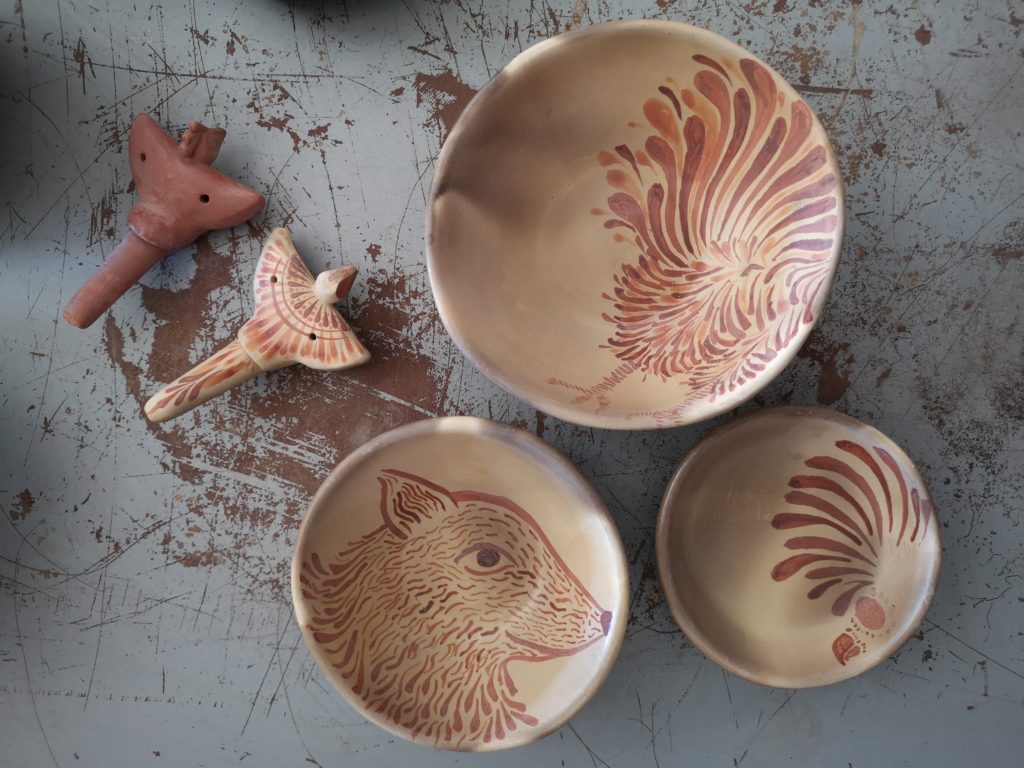 This workshop allowed us to be aware of all the stages, the hard work and the time devoted to the conception of a handcrafted piece in terracotta. The sketchbook stands as a testimony to these ancestral techniques which are disappearing, as a manual which would allow these techniques to be disclosed to an audience which does not necessarily speak the same language, as it is often true in the case of indigenous communities.

Cet atelier nous a permis de prendre conscience de toutes les étapes, du labeur et du temps consacré à l'élaboration d'une pièce artisanal en terre cuite. Le recueil de croquis sert de témoignage de ces techniques ancestrales qui sont en train de disparaitre, comme un mode d'emploi qui permettrait de divulguer ces techniques auprès d'un public qui ne parle pas forcément la même langue, comme c'est parfois le cas dans les communautés indigènes.